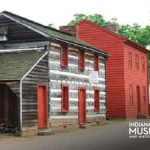 In honor of Presidents' Day on Monday, the Vincennes State Historic Sites will offer free admission throughout the day.
Beginning at 10:00 a.m., those interested are invited to tour the Indiana Territory Capitol, the Jefferson Academy and much more.
Free admission will be offered through the end of the business day, which arrives at 5:00 p.m.