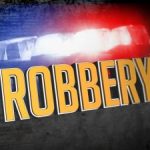 The Knox County Sheriff's Department is investigating an armed robbery that occurred shortly before 4 am at the Chuckles Convenience Store in Bicknell.
Knox County Sheriff Doug Vantlin says deputies arrived at the store shortly after the call was dispatched.
Deputies spoke with a female employee who said two black males dressed in black pants and black coats entered the store. Both men pulled handguns.
The employee suffered minor injuries as the result of an altercation.
According to Vantlin the two men fled the store in an unknown direction of travel.
Detectives were called to the scene and the robbery remains under investigation.