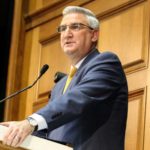 Governor Eric Holcomb announced several new steps today while the state battles the COVID-19 pandemic.
Among the steps being taken – Indiana is delaying state income tax filing and payments until July 15.
Small businesses are now eligible to apply for federal disaster loans. And Holcomb says the state is hoping to broaden its unemployment laws, including allowing those who file late to still get benefits.
Holcomb says one year ago this week, about three thousand people filed for unemployment– while more than 22 thousand Hoosiers have filed the past three days.
The governor is also banning any utility company from shutting off service during the health crisis and stopping any foreclosure or eviction proceedings.
Still up in the air is the fate of Indiana's May 5th primary. Holcomb says he's talking with election officials and state party leaders and that he supports postponing the May primary date.
Holcomb also says he's not ready to mandate more business shutdowns, travel restrictions or shelter-in-place orders.