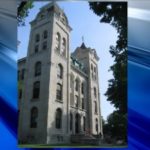 The Knox County Courthouse will remain closed to the public until at least June.
Knox County Commission President Kellie Streeter says some office holders continue to express concern about COVID-19 and the amount of foot traffic in the courthouse.
She  says some county office holders are accepting visitors by appointment only.
Those coming to the courthouse will have their temperature taken by courthouse security before being granted access to the building.
Persons can contact county offices by phone or email. The numbers and email addresses of office holders are available online at knoxcounty.in.gov.
The Commissioners are expected to review their decision of when to reopen at their June board meeting.