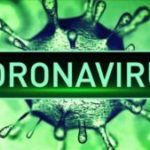 The Indiana State Department of Health is reporting 29,274 diagnosed cases of COVID-19 in Indiana.
38 new deaths were reported today, totaling 1,716 COVID-19 deaths in Indiana.
195,738 Hoosiers have been tested for the illness to date.
As more Hoosiers get tested, only 15% of the tests are coming back positive.
Greene county is up to 162 cases of the disease and 21 deaths.
Daviess county has 71 cases and 15 deaths.
Sullivan county now has 29 cases, and is reporting the county's first death.
Knox county has 23 cases of the illness.