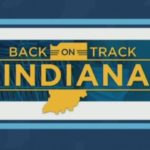 Hoosiers are ready to enter stage three of the 'Back on Track Indiana' plan tomorrow.
Governor Eric Holcomb signed an executive order today that stated some changes from the original plan.
Playgrounds, bowling alleys, and movie theaters were suppose to reopen, with guidelines in place.
Today's order stated that those locations must stay closed until further notice.
Movie theaters are now suppose to reopen during stage 4, starting June 14th.
There has yet to be announced as to when playgrounds will be reopened.
To see the full order, you can go to http://media.heartlandtv.com/documents/Executive+Order+20-28+(Reopen+Stage3).pdf