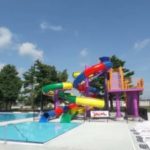 Rainbow Beach may open up sometime this summer after all.
That is according to Vincennes Mayor Joe Yochum.
Yochum is offering the possibility of opening, even after the Vincennes Park Board recommended the pool not open in 2020 at their meeting last night.
Mayor Yochum says that the pool having the opportunity to reopen depends on if the Governor loosens state restrictions.
The cities of Washington and Loogootee announced early last week that their pools will not open this summer.