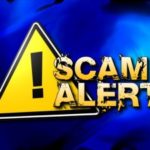 Duke Energy is warning Indiana customers to be on guard against phone calls from scammers.
Scammers are demanding utility customers pay their electric bill immediately or risk having their electric service disconnected within the hour.
Duke Energy Indiana President Stan Pinegar says because of the pandemic, they have temporarily suspended disconnections for nonpayment.
Typically, the customer will receive an unsolicited phone call — or an automated call — from an individual who falsely claims to be a Duke Energy representative demanding immediate payment, usually in the form of a prepaid debit card.
Pinegar says Duke Energy never asks customers for prepaid debit cards.
Customers who suspect or experience fraud should contact local law enforcement authorities or the Duke Energy Indiana phone number listed on their bill.