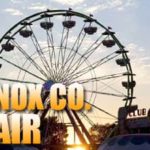 The Knox County Fair will not be happening like it has in the past due to COVID-19.
According to the press release from Knox County Fairboard President Rob Marchino, the Fairboard voted to not host the yearly event.
The Knox County Fairboard is working with Knox County 4H and Knox County Officials to let 4H members show or display their projects at the Fairgrounds.
The Board feels that even with the decision being difficult, it is in the best interest for the safety for Knox County citizens, 4H members and families, as well as volunteers.