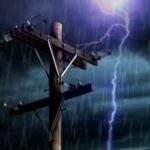 The city of Vincennes is still recovering after a storm on April 8th.
According to Mayor Joe Yochum, there is over $200,000 in damage to city property due to the storm.
Yochum said that the cemetery alone had around $35,000 worth of damage.
According to the Knox County Emergency Management Agency and the National Weather Service, straight line winds were the cause for the major damage.
Officials say that winds peaked at approximately 80 miles per hour; a wind speed usually associated with a category 1 hurricane.