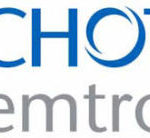 A Schott Gemton official made a pitch at last night's Vincennes City Council meeting regarding tax abatements.
Brian Johnson with Schott shared the company's need to install manufacturing equipment for a new product line, as well as a furnace upgrade.
The installation of the manufacturing equipment will help make Schott maintain their employment and hopefully increase it as well.
Johnson shared that the installation of the machinery will add 3 new jobs to the facility.
The tax abatement would last 5 years.
The first year, Schott would receive a 100% deduction, the second year would be a 80% deduction and so-on and so-forth until 5 years is up.
The council voted 6-1 in the provisional approval of the resolution. Ryan Lough was the only council member to vote no.
Schott Officials will return to the Vincennes City Council Chambers on June 22 for the second reading of the resolution.