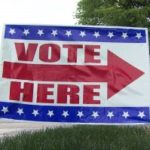 The deadline for candidates to file for vacant ballot spots has come and gone.
Knox County Clerk David Shelton has announced the races for this November.
Trent Hinkle will remain as a County Commissioner, while TJ Brink will join him as a fellow County Commissioner as of January 1st, 2021.
There will be a four-way race for County Council At-Large.
This race will include incumbents Harry Nolting (R), David Culp (R),Dan Reitmeyer and Kevin Meyer (D).
Incumbent Democrat Brian Hagen will be facing Republican challenger Karen Donovan for Coroner.
Democrat Brenda Hall will be going against Republican Cendy Joslin for the spot of Treasurer.