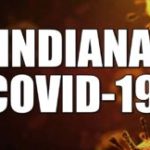 Nearly 400 new cases of COVID-19 have been reported to the Indiana State Department of Health.
This brings the Hoosier state to nearly 45,600 cases of the illness.
16 new deaths have been reported, making the total number of lives lost to COVID-19 2,448.
Over 7,800 new tests have been administered since yesterday's report.
In all, nearly 484,200 state residents have now been tested for the virus.
9.4% of those test results are coming back positive.