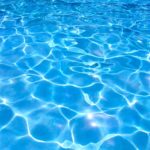 Vincennes city leaders have good news for people looking to have a little summer fun.
Officials say they hope to have the splash pad at Four Lakes Park open by this Friday.
That's just ahead of the 4th of July holiday.
Officials say they've been working hard to open some sort of aquatic activity in the area.
Rainbow Beach is closed because of the pandemic.
Vincennes leaders say part of the reason they can open the splash pad is because it doesn't require lifeguards.
There will be signage asking people to social distance.
Officials will release hours later this week.
Friday the government offices will be closed in observance of the 4th of July holiday on Saturday.