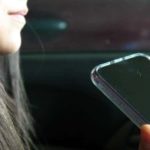 On Wednesday July 1st several new laws go into effect.
One of the laws set to go into effect is the Hands Free driving law.
Under the law…people will not be able to hold an electronic device while driving.
This includes texting or making a phone call.
We talked to Vincennes Police Chief Robert Dunham about the effectiveness of this new law.
He says the department plans to issue warnings to people violating this new law first.
If that doesn't work, they'll move onto citations.