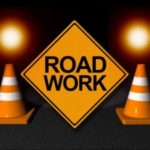 Knox County officials are working to fix a local road.
Officials say Dutch Hinkle Road is a safety concern right now.
That's because of a washout leaving only one lane of traffic on the road.
Officials say they're working on a solution.
This solution includes a putting a levee near the road along with a wall and a culvert.
The Knox County Council approved the transfer of money to make this project happen.
Officials are also working on putting an overpass bridge near Old U.S. 41.
The Indiana Department of Transportation is funding 80 percent of this project.
The county is paying the other 20 percent.
Officials say the design portion of this project is complete.