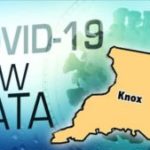 Knox County is now up to 77 total cases of COVID-19.
This comes after a number of new diagnosed cases.
At this time, 13 patients are in active quarantine.
One patient is being hospitalized, while the others are at their homes.
According to Knox County Health Officer Dr. Alan Stewart, recent cases show that there is community spread.
This is happening within families as well as work places.
Many of the cases originate from traveling both outside the county and state.
Dr. Stewart is urging those in the community to practice social distancing, wearing face masks, and washing hands.
Residents are also encouraged to watch out for any signs of COVID-19 symptoms such as fever, cough, shortness of breath, fatigue, muscle or body aches, loss of taste or smell, sore throat, congestion or runny nose, nausea or vomiting.
If you are not feeling well, you are asked to stay home and contact your physician.