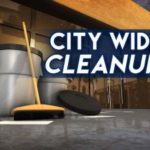 Monroe City officials are working on a plan to spruce up the area.
Officials have scheduled town wide clean up days.
They'll take place Wednesday July 29th through Friday July 31st.
Dumpsters will be available at the Monroe City Town Hall.
However, only Monroe City water customers will be able to dump stuff in the dumpsters.
Officials say paint and tires will not be accepted.
You'll be asked to present a valid ID.
You'll be able to drop stuff off from 8 am to 9 pm on Wednesday and Thursday of that week.
Officials are still working on a plan for Friday.