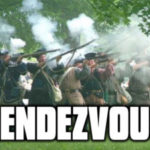 COVID-19 claims another big event.
For the first time in it's history, the Vincennes Rendezvous is cancelled.
Organizers met last night and spokesman Mark Hill told us this morning that the decision was made to cancel mainly due to safety concerns for the public and the event's vendors and participants.
Hill says it was becoming apparent that it was going to be very difficult to put on a quality event with the current circumstances surrounding the ongoing pandemic.
The Rendezvous, normally held on Memorial Day weekend in May, had already been postponed to August.
The event has been held every year since it's the inaugural bicentennial event in 1976.
Hill said another factor in making the decision was that similar living history events in the state which were were scheduled for later in the year were canceling in places like Evansville and Lafayette.
Next year's event is scheduled for Memorial Day Weekend– May 29th and 30th, 2021.