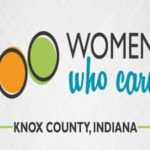 One local organization will receive a little help today.
100 Women Who Care in Knox County is hosting a Gift Giving meeting.
During this meeting they'll decide who will be the recipient of this gift.
It's between three local organizations.
They are the The Salvation Army Vincennes Corp,. First City Music Festival, and NK Backpack Blessings.
Representatives from each organization will be present to plead their cases.