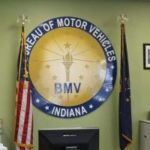 The Indiana Bureau of Motor Vehicles announced it will begin one of its services once again.
The agency will schedule appointments for driver's exams starting today.
Officials are scheduling people who had to cancel exams in June first.
Once that is taken care of they'll open up the appointments to other people.
First appointments could be available as early as today in select communities.
However, all branches will offer the appointments by July 24th.
Driver's exams must be scheduled at least 48 hours in advance.
Officials say they will be taking precautions.
This includes answering health screening questions, having at least two windows in the car opened slightly, and wearing a mask.
People who don't follow requirements will have to reschedule their exams.