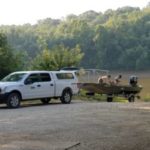 A crew of Research Biologists launched a boat at the public access site on the White at the Knox/Pike County line at Petersburg today.
It's all part of the White River Mainstem Project, a collaborative effort of the DNR, Department of Environmental Management and Muncie Sanitary District of Water Quality.
Sandy Clark-Kolaks is the Southern Fisheries Research Biologist with the DNR and she says this is the most comprehensive sampling of the White and West Fork White that has ever been done.
Samples of fish and insects are also being taken.