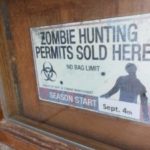 Fall brings with it hunting seasons of various kinds, and this year at Patoka Lake State Park, you can hunt zombies.
Zombie hunting season started on Labor Day and continues through Halloween.
Twelve zombies are hidden around the park's property in southwest Indiana.
Zombie hunting licenses cost $5.
After they are purchased hunters can start their quest.  The goal is to find at least 10 of the 12.
Dana Reckelhoff with the DNR says when a zombie is found, a hunter should not be afraid to shoot….with a camera.
The money raised from the hunting licenses goes toward educating the public on the raptors which can be seen around the state park.
Licenses to hunt are available during the park's regular hours.  There's  more information available at the park's offices or by calling 812-685-2464.