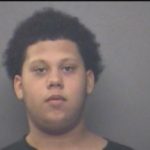 Police report a speeding  motorist was arrested for Operating a Vehicle While Intoxicated with a Controlled Substance and Possession of Marijuana.
Indiana State Police clocked a vehicle going 90 mph north bound on I-69 in Pike County last evening.
After stopping the car, the trooper noticed a smell of burnt marijuana coming from inside the car being driven by 18-year-old Jacob Hille of Evansville.
A field sobriety test indicated the driver was intoxicated.
Hille was taken to the Pike County Jail.