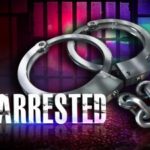 An Illinois State Police murder investigation led to an arrest in Florida.
The U.S. Marshals in Florida arrested 18-year-old Rick Meador.
Meador was wanted on a warrant out of Richland County for first degree murder.
It ties back to a situation that happened in early September.
That's when police say they found 19-year-old Kyle Johnson with gunshot wounds.
He died from those injuries.
Meador is currently in a Florida jail waiting for extradition.
His bond was was set at 500-thousand dollars with 10 percent.
Meanwhile, a 16-year-old girl was taken into protective custody.