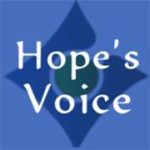 Nearly 20 people a minute are physically abused by a partner in the U.S.
That's according to the National Coalition Against Domestic Violence.
This is why the month of October is dedicated to Domestic Violence Awareness.
We spoke with Hope's Voice of Knox and Daviess Counties.
It's an organization dedicated to preventing this violence.
Officials there say they're already planning a month of activities to spread awareness.
Jenna's Bakehouse and Fossmeyer's Bakery have special baked goods highlighting the month.
Additionally, workers will be putting up purple ribbons throughout the area.
Those purple ribbons represent the victims of domestic violence.
Officials say you can show your support for the cause in many ways.
In addition to all of these activities, Hope's Voice also announced a new pocket park.
It will be located on 8th and Scott Streets.
The organization will work with Vincennes to make this project a reality.