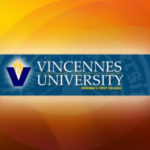 Vincennes University students, faculty and staff are getting accustomed to the new normal of campus life amid the pandemic.
University President Dr. Chuck Johnson says the adjustments and protocols that have been put in place have paid off.  He reports there's only been a small number of COVID cases throughout the entire university…
Students have been studying using a hybrid schedule of on campus and online classes.  Johnson says they are now working toward Thanksgiving break.   Like most other universities in the state, VU will go to online learning only from Thanksgiving to February with Christmas break in between.
A few campus activities have returned or are being scheduled.  Any planned event with 50 or more people still needs to approved by the President.
Meanwhile, Vincennes University is partnering with Purdue University's Cyber Apprenticeship Program.
The schools will provide two online Associate Degree programs and an online Cybersecurity Certificate for students registered in Purdue's apprenticeship Program.
Only VU provides a chance to earn stackable degree programs at the one- or two-year degree programs level as part of the cyber apprenticeship program.  VU students can then transfer credits to Purdue for a Bachelor's or Master's Degree program.
By offering the degree programs and the certificate, VU officials say they can now equip cyber professionals with advanced skills and expertise.