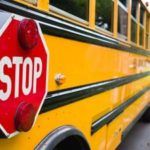 Changes are in store for one local school corporation because of the covid-19 pandemic.
Washington Community Schools announced it is now in the red phase of its back to school re-entry plan.
This comes after the Daviess County Health Department discussed the recent increase in covid-19 cases in the community.
Starting Monday November 23rd all school buildings will be closed and distance learning will be in place.
Students in grades kindergarten through 8th will get their assignments through a distance learning portal.
High school students will follow their normal class schedule but they'll talk to their teachers through Google Classroom, Google Meet or email.
Additionally, all extracurricular activities including sports practices and games are cancelled.
Right now officials say students will return to school on December 7th;
However, that could change.
The school corporation says principals will release more information on device distribution, meal pickup and other details in the coming days.
Additionally, officials say there's a list of free public Wi-Fi spots on the corporation's website for students who do not have access to the internet.