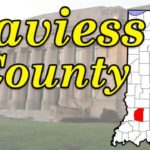 There have been 170 new COVID cases in Daviess County from Friday to Sunday. Because of that, the health department has implemented new, and more strict restrictions for the county starting today.
All Daviess County Schools are to go with their virtual protocols now through December 6th.
Also, all school sports events, practices and extracurricular activities are suspended.
Restaurants and bars are limited to 50 percent capacity, other businesses can remain open but must follow the mask wearing and social distancing guidelines.
Social gatherings, funeral visitations and fitness center are all limited to a maximum of 25 people. Churches and religious organizations are strongly encouraged to go virtual.
The Daviess County Health Department has the authority under state law to put the changes in place. They say they are doing so out of an abundance for concern of Daviess County residents.
All of the restrictions are in place through December 6th. That could change however, if conditions do not improve.