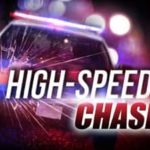 A wanted felon was caught after a two state police chase Friday.
Vincennes Police report they saw Mark Baughn, who police knew was wanted for dealing meth, get into a vehicle near 15th and Broadway.
Baughn did not stop pull over for police when they attempted a traffic stop and continued north on 15th and then east onto Hart.  Baughn then led the officer onto 41 North, to 50 West and into Illinois.
The car then exited onto Lake Lawrence Road in Lawrence County, tried to make a turn and slid into a snow drift.  Baughn was then arrested without incident.
A K9 officer alerted to the presence of drugs.
Police says 105 grams of meth was located along with syringes and paraphernalia.
Baugn was arrested on 2 active warrants along with addition counts of dealing and possessing meth.  Possessing a syringe and paraphernalia and a controlled substance, Resisting Law Enforcement and Reckless Driving.