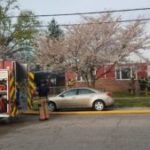 A Vincennes house fire resulted in $50,000 in damages.
The Vincennes Fire Department today confirmed the amount in a news release, which also reported a total of 4 people were transported to the hospital from the scene.
On duty firemen saw the fire across the street from Fire Station 2 about 8:30 on Tuesday morning and reported it.  All Vincennes Fire Companies then responded to the home at 1103 College Avenue.
Two adults and a child were in the entryway of the home and escorted out.  Another adult man was inside and was also assisted out of the home.
The fire was quickly contained to the rear of the home and an attached carport.
The Indiana State Fire Marshall is investigating the cause.