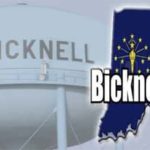 Improvements at the park in Bicknell continue.
Mayor Thomas Estabrook reports that crews from Central Indiana Asphalt have put down a new layer of asphalt on the tennis court and the former batting cage.
Those areas will be the new basketball court while the current basketball court will be removed to build a splash pad.
Eventually there will be two new basketball courts and the tennis court will be equipped with stripes for both tennis and pickle ball.
Anyone needing to shoot hoops during the construction can do so at the northside court in Bicknell or the city's pocket park.