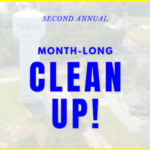 Despite today's rainy weather conditions, an effort to clean up one local city got underway today.
The city of Sullivan kicked off its City Wide Cleanup today.
It will take place throughout the entire month of May.
People who live in Sullivan can bring authorized items and trash to the Sullivan City Garage located at 317 South Broad Street.
They can be left in the dumpsters free of charge.
The list of authorized items includes household furniture. mattresses, large toys, and carpeting.
People are not allowed to bring construction debris, tires, paint, liquid waste, ammunition, electronics and hazardous waste.
You can drop off stuff Monday through Friday from 8 am until 330 pm.
There are extended hours on Thursdays from 5 to 7 pm.