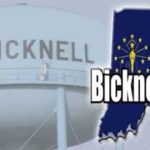 Crews in Bicknell are working on a water line replacement project.
It's taking place in the area of West 3rd from Main to the middle of the 500 block.
After the new water line is installed, every water meter in the affected area will be replaced and connected to the new water main.
A temporary loss of water will occur while your water meter is being replaced.
If you have any questions about the work being done in Bicknell, you're encouraged to call the water office at 812-735-3301 during regular business hours.