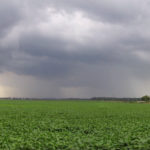 (INDIANA PUBLIC BROADCASTING)
South Central Indiana shattered rainfall records for the past 6 weeks.
Between June 1 st and July 17 th , Bloomington got drenched with 17 inches of rain, including a massive storm that caused damage in downtown and outlying areas last month. Those totals broke a 126-year-old record.
Indianapolis received 13-point-8 inches of rain during that 46-day span, 4 th highest total in the city's history.
But Ellettsville, and Freeman, which is in Owen County, both saw the highest rain totals of anywhere in the region during that time, with 21 inches.
National Weather Service Meteorologist Aaron Updike says it's unusual to see this much rain,
this late in the year: "We had a drier April and May, which was actually probably a good thing, at the time, we were a little worried about it, because it can sometimes signal drought in the summer."
Updike says warm gulf air being drawn up into the Midwest is to blame for much of the rain
that's fallen so far this summer.