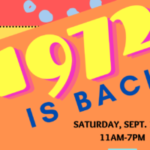 If you're looking for some fun family activities, one local organization is opening back up to the public this weekend.
The 1972 Center in Vincennes is officially reopening its doors to the public tomorrow for Super Saturdays.
This comes after the center has been closed for a little more than a year because of the pandemic.
Super Saturday begins at 11 am and will last through 7 pm.
The event features everything the 1972 Center has to offer including putt-putt, laser tag, and a rock-climbing wall.
The cost is 10 dollars for single admission and 35 dollars for the family package.
For a closer look at times and prices just click on this link.