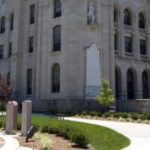 New security measures implemented last year at the Knox County Courthouse are paying off according to county officials.
At a recent County Commissioner's meeting, Commissioner Kellie Streeter listed the number of items found and the number of people apprehended at the manned metal detectors and scanner at the courthouse entrance.
Streeter says that doesn't count other items like tasers and full bottles of alcohol that were found in people's possession.
When firearms or knives are found, deputies do not confiscate them, but people are asked to take them back to their vehicles.
Most of the security improvements installed last year were paid for through grant money along with around $37,000 in county funds.
Commissioner Trent Hinkle says the courthouse has become much safer.
Special thanks were given to the deputies working full-time at the courthouse entrance.