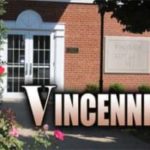 The Vincennes City  Council will not be holding a public hearing to discuss a proposed Local Income Tax, also known as LIT to fund public safety matters.
Council President Tim Salters informed the council that a hearing won't be held because he says the time line for city officials to discuss LIT and hold a vote is too tight.
Knox County officials have advertised a public hearing for later this month.  County officials are considering implementing a Public Safety LIT to be used for emergency services.  Knox County is said to be the only county in the state without such a tax.
If the county wants to receive revenue from the tax starting in January of 2022, under state statute, the tax would have to approved by October 31st.
That would mean the county council and city council would have to meet on back to back days to pass the measure.
The county council has their public hearing scheduled on October 26th.
Salters says the deadline is too soon….
The idea for a Public Safety LIT has come to light in recent months since Knox County EMS reported financial difficulties and later the owners said they would semi retire and would end their service to the county in January.   A possible new partnership with Good Samaritan Hospital is currently in discussions.