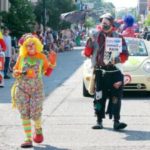 It's the return of an annual event celebrating Vincennes' most famous man.
Anne Pratt the director of the Red Skelton Museum of Comedy, says this will be the 17th Red Skelton Festival and it begins on Saturday, June 11th.
The Clown Parade will take place at 5:30 on Saturday and will follow the homecoming route at Hart, Fifth, and Main.
Saturday entertainment also includes Brian Hoffman and his Red Skelton Show at the Red Skelton theatre with tickets costing $15.
Then on Sunday, June 12th, there will be activities at the museum on the VU campus including a panel discussion about Hoosiers in comedy.
Then at 3 pm "Susan Slept Here" will be shown on the big screen at the theatre.
Pratt says the parade is here favorite part of the festival.
For $5 you can get a festival button featuring "Laughing Stalks", which will be good for museum admission the whole weekend and the Sunday programs.
For more info go to redskeltonmuseum.org