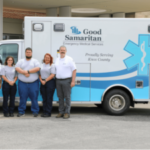 Emergency services in Knox County will soon be changing hands and Good Samaritan Hospital hopes to celebrate.
On June 28th, the hospital will host a ribbon-cutting for its new Emergency Medical Services.
Services will switch from Knox County EMS to the hospital on July 1st.
Good Samaritan officials have spent the last couple of weeks preparing for the switch.
This has included getting new ambulances, new paramedics, and first responders.
Officials say they don't expect any interruptions when the changeover happens.
Earlier this week, Knox County commissioners appointed Kellie Streeter to the EMS oversight committee.
It will be made up of people from all of the governing bodies involved in the project.
They'll be tasked with making sure everything goes smoothly.
Meanwhile, the ribbon cutting will take place on June 28th from 3 to 4 pm in front of the helipad on 6th Street.