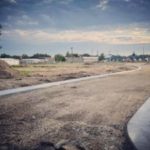 A new business and small subdivision are making progress in Vincennes.
City Council President Tim Salters stopped by First City News to discuss the new developments.
First, Salters said Ollie's is currently hiring and working towards their grand opening.
No date has been set yet, but Salters said after hiring and training, the bargain market plans to open this summer.
Meanwhile, the "mini subdivision" named Broadway Place is starting to take shape with curb ramps being placed.
12 new houses are being built just off of Hart St. behind the All America Car Wash.
Salters is happy to see a development like this and hopes more can pop up soon.
Salters says he looks forward to the continued improvements to the City of Vincennes.