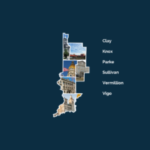 One local region is getting ready to announce its plans for the Regional Economic Acceleration and Development Initiative or READI.
The Wabash River Regional Development Authority will host a press conference today at 3:30 PM.
The region is made up of several counties including Knox, Sullivan, and Vigo counties.
During the conference, officials are expected to announce some of the projects they'll be funding through the program.
Knox County's involvement in the region comes by way of Vincennes University.
The county is also a part of the Southwest Indiana region, which includes Pike, Spencer, and Perry counties.
Knox County Indiana Economic Development CEO Chris Pfaff said this week, that the region is still hammering out its plans;
however, he knows most of the money will go towards housing development.
The press conference for the Wabash River Regional Development Authority will take place at the Terre Haute Convention Center.