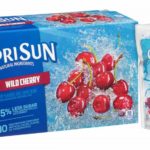 You might want to double check your kids lunches before sending them to school.
The company Kraft Heinz has announced a voluntary recall for Capri Sun Wild Cherry Flavored Juice Drinks.
Approximately 5,760 cases were affected when diluted cleaning solutions were inadvertently introduced during production.
The company realized the mistake after receiving several consumer complaints about the taste.
If you purchased a variety pack of Capri Sun, please be aware that only the Wild Cherry flavor was affected.
More information on the recall can be found here.