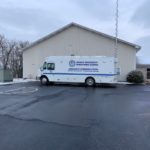 A local first responder played a role in an Evansville investigation.
Authorities in Evansville are still investigating a deadly house explosion that happened last week.
The explosion killed three people and destroyed several homes.
At least 39 other homes were damaged.
Knox County EMA says it deployed its Mobile Emergency Operations Center to Evansville.
It gave people investigating the explosion a safe place to conduct their investigation.
The mobile operations center remains in Evansville through Tuesday.