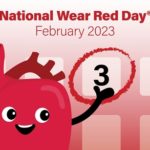 February is American Heart Month, which shines a light on heart disease.
According to the American Heart Association, heart disease is the number one killer in America.
The first Friday of American Heart Month is National Wear Red Day.
The goal is for people to wear red to raise awareness and support the fight against heart disease.
On average, someone in the U.S. dies of a cardiovascular disease every 34 seconds, according to the AHA.
One of the best ways to support National Wear Red day is to learn Hands- Only CPR.
AHA has easy-to-follow instructions and videos on their website, so people can learn how to perform CPR in a matter of minutes.
By learning this skill, people can be prepared to help others in case of a cardiac emergency and save a life.
In the last 30 years, the mortality rate for heart disease has dropped more then 50% thanks to research, medical developments and education.
AHA says heart disease is preventable in most cases when people adopt a healthy lifestyle.
That includes not smoking, maintaining a healthy weight, treating high blood pressure and getting regular checkups.