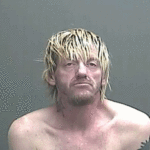 A Vincennes man was arrested by Indiana State Police early today.
47-year-old Jimmy Eaton was booked into the Knox County Security Center at 4:23-am for Dealing Meth, Possession of Meth, Possession of a Controlled Substance, Possession of a Syringe, and Resisting Law Enforcement.
Eaton also had outstanding warrants for Theft and Probation Violations.
He was being held on a $5000 bond.