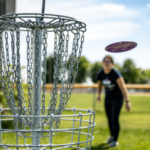 Washington Parks and Recreation board heard a proposal for a new disc golf course on Wednesday.
Kevin Conley went before the board to give his pitch.
He says the board members were receptive and agreed the course would be a nice addition.
Mayor David Rhoads had concerns about the roadways nearby and Conley says he will be inviting a course designer to the area to address the issue.
There was also a question about the large events that happen at the park, but Conley informed the board that the baskets are easily removable.
Since the budget for this year is already finalized Conley says the best-case scenario would be next year.