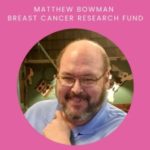 A local man is being remembered through a new fund.
Pat Buntrock announced the Matt Bowman Breast Cancer Research Fund has been set up at the IU Simon Cancer Center in Indianapolis.
She says through this fund, the Susan G. Komen Tissue Bank is now able to collect normal breast tissue from men.
This means research for the treatment of male breast cancer will be able to take steps forward.
The Susan G. Komen Tissue Bank is asking men to answer the call to get involved.
To participate you must be at least 18 years old, not be allergic to local anesthetics, not be on blood thinners, and have the ability to understand and sign an informed consent.
Your donation of healthy breast tissue is important to breast cancer research that may lead to better treatments or a cure.
Right now the tissue collection is tentatively scheduled for June 10th at the IU Health Simon Cancer Center in Indianapolis.
To register call the Komen Tissue Bank at 866-763-0047 or you can visit their website at www.komentissuebank.iu.edu to find out more information.