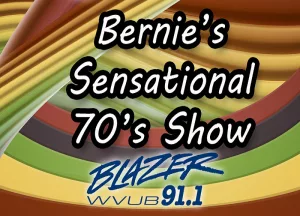 Bernie's Sensational 70's Show
Bernie's Sensational 70s Show airs Sundays, from 7-9 p.m. ET. 
Bernie Schmitt is the host of Bernie's Sensational 70s Show each Sunday on Blazer 91.1 WVUB.
Schmitt is currently a Vincennes University college professor who teaches English and Communication courses. A former newspaper photographer, writer, and editor, Schmitt is a Vincennes University graduate and grew up in Gibson County, Indiana.
During his career, Bernie has worked for newspapers in Wyoming, Kansas, and Indiana, and has interviewed and photographed a variety of musical artists over the years.  His love of music began at a young age, listening to WJPS Evansville on his transistor radio while growing, and later, playing vinyl albums, eight-track, and cassette tapes by his favorite artists of the 70s.
"A lot of great music was made in the 1970s," Schmitt says. "A 70s radio show allows me to share it with others."
Join Bernie each Sunday evening for a great mix of the best music of the 1970s and special spotlights each week.